Wellingborough allotment attack kills 40 chickens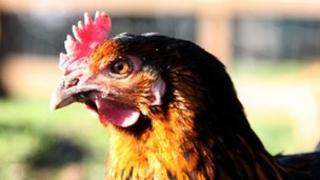 About 40 chickens and a turkey have been killed in an attack at an allotment in Northamptonshire.
The animals were killed between 15:00 GMT on 9 January and 11:00 GMT on 10 January at Ladywell Allotments on Finedon Road in Wellingborough.
Northamptonshire Police has appealed for witnesses. It is not thought the chickens were killed by an animal.
The allotment holder, who also keeps geese and pigeons, said only three of his chickens had been left alive.
He said: "I don't really know how most of them were killed. The heads were pulled clean off some, but others didn't really have marks on them.
"I don't know who would do something like this. I have my chickens as a hobby and I have been here for almost 15 years.
"I would like to replace them, but I don't think I will be able to afford to do that."