Northamptonshire PCC Adam Simmonds budget freeze to tax charge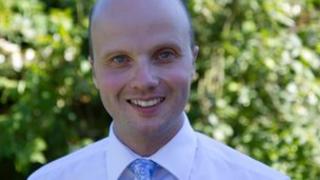 The first budget of the Police and Crime Commissioner for Northamptonshire will see no cuts to police numbers and a freeze on the force's share of the council tax, it has been announced.
Adam Simmonds' £123m budget for 2013-14 will include £264,000 to begin to create a force of police reservists.
It also funds the creation of four senior assistants, which has been criticised.
The Commissioner's office said it was an achievement to not cut staff.
'Protecting police'
Peter Heaton, assistant commissioner for engagement, said while many forces were losing staff and/or having to raise their part of the council tax, Northamptonshire would keep its force at the same level in 2013-14.
"It's a zero council tax precept and we are protecting police numbers," he said.
The force has still had to cope with cuts to government grants and is making savings of £4.3m.
The report, which goes before the county's police and crime panel next week, says the PCC's office costs will have a provisional budget of £796,000, which the PCC's spokesman said is roughly the same as the budget for the old police authority.
Mr Heaton said the budget also makes use of a £2m contingency fund kept by the police authority, in addition to reserves.
Quizzed at meeting
The budget says the funding of the volunteer army of police reservists will go up from £264,000 to £1.19m in 2014-15, and £2.6m in 2015-16.
Mr Heaton said the huge increase would be achieved through efficiency savings and better use of police property.
At the first meeting of the panel in December, Mr Simmonds was quizzed by a member of the public, Patricia Masters, who asked why the Conservative PCC had already appointed four assistant commissioners.
Mr Simmonds said he needed to employ some interim staff quickly.
Mrs Masters said: "I'm concerned that the PCC did not hold interviews for any of the jobs and instead employed his friends. It is not clear how much these people would be paid."
Mr Simmonds said: "I had to make decisions quickly. Many people may say that I shouldn't have employed people that I know but this is a completely new role.
"I would rather employ people who would help me to be a success because the buck stops with me."
A plan to create a chief of staff was dropped in December.