Northamptonshire Beer Festival: Council pledge to save cancelled event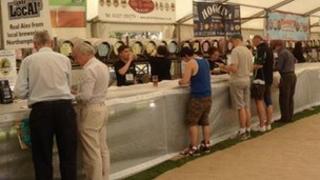 A pledge of support has been offered to organisers who have cancelled this year's Northamptonshire Beer Festival.
The chairman of Northamptonshire Camra said the decision was made because he was the only person to volunteer for the organising committee.
Northampton Borough Council said it would try and provide extra support.
David Mackintosh, council leader, said: "It's an important event in the town's calendar and we're talking to the organisers to see what can be done."
Camra said the festival, which was due to take place at the council's Delapre Abbey on 30 May-1 June, usually attracts about 10,000 visitors.
Phil Greenway, Camra branch chairman, said: "We have 1,300 members but with ever-decreasing numbers of active members we are unable to form a committee to help with the planning and I am no longer prepared to take sole responsibility for it.
"I would have to be there on-site every hour to supervise and I can't do that anymore - I need a site manager and others to share the burden."
Mr Mackintosh said: "Clearly money is tight, but we can offer our supporting resources and we will do anything we can."