Parents 'swear' at head teacher enforcing parking rules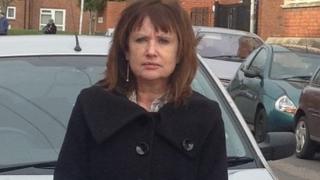 A head teacher says she has been sworn at by parents while trying to encourage them not to park illegally during the school run.
Jackie Lapsa, of Vernon Terrace Primary School, Northampton, says a "small minority" of parents are double parking or stopping on "Keep Clear" areas.
Offenders' registrations are being posted on the front door of the school and in its newsletter.
She said: "There is a small group who swear at me and give me the V sign."
Mrs Lapsa said she was "very worried" that children at the 250-pupil school and nursery were being put in danger by the parking.
She said: "Some double park outside the school and abandon cars while they drop their children off, meaning there are restricted views for children."
She has appealed to parents to park in nearby streets and walk the remainder of the way.
"We've put cones out and some of them will drive into the cones or get out of the car and kick them out of the way," she said.
Mrs Lapsa said most of the parents were supportive but she would like Northamptonshire Police to help by issuing parking tickets and following it up with court action.
Sgt Matt Phillips said Northamptonshire Police had dedicated "a lot of officer time and attention to Vernon Terrace School".
"Officers move on anyone who parks inappropriately and will issue tickets when it is proportionate to do so," he said.