The Hind Hotel in Wellingborough applies for repair grant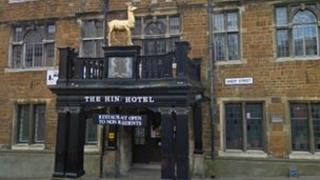 The owner of a Grade II-listed Northamptonshire hotel under threat of a compulsory purchase order says he has applied for lottery funding.
Wellingborough Borough Council has warned the 17th Century Hind Hotel in Sheep Street needs essential repairs.
It said the hotel's owners had failed to take advantage of available funding.
However, owner Shasha Khan said a Heritage Lottery Funding (HLF) application form had now been signed and things were "looking positive".
Mr Khan said he had applied for about £250,000 from the HLF and had arranged to meet councillors for further talks next week.
"The finer details [of the funding] just need to be ironed out and when that is done we can move forward," he said.
'Visibly deteriorating'
The Hind Hotel was a resting point for Oliver Cromwell's army before the Battle of Naseby in 1645.
The council said it had been "visibly deteriorating" over the past 10 years, with rotting wooden rafters, beams and windows and eroding stone and brick work.
It also said there was damage to wall and ceiling plaster and wooden panelling inside.
Last year, the council received £1.4m of lottery money "to help protect the borough's heritage" and the hotel was identified as a building that could receive funding to cover about 70% of the cost of approved works.
'Last resort'
However, it said the owners had not applied to take advantage of the grant.
At a meeting on Tuesday, the council decided to serve a repairs notice but pledged to work with the hotel to offer "help, advice and financial assistance".
Councillor Tim Allebone said: "We're delighted that the owners have now submitted their application for this funding, and we have agreed to meet with them regularly to help them through the repairs process.
"Purchasing the hotel would be an absolute last resort but it is an option that is open to us."