David Ross murder: Crimewatch appeal to Corby man's friends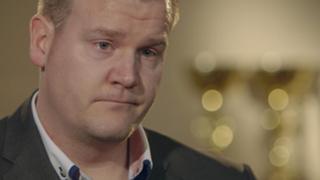 Friends of murdered Corby businessman David Ross will be urged to contact police on the BBC's Crimewatch programme on Thursday evening.
Mr Ross, 39, known as Les, was found dead with head injuries at the Village Express hotel in Corby on 17 December.
He was staying there because his home had been burgled and flooded.
Det Ch Insp Martin Kinchin, who is leading the murder hunt, said close friends of Mr Ross who had not spoken to police should contact them.
"We are grateful to everyone who has come forward so far," he said.
"But if you regarded yourself as a close friend of Mr Ross and haven't been in contact with any of the investigation officers, we would really like to speak to you."
He said police wanted to hear from anyone who saw Mr Ross on the day he died, or the weekend before.
Police also want information about an iPhone, a Blackberry Playbook and a laptop computer stolen from Mr Ross' home on 14 December.
'All taken away'
Mr Ross's brother Niall also appears on the programme, saying: "There's no answers - there's nothing - so at the moment we know someone's murdered him but that's all we know.
"We can't get closure. We can't get put him to rest. It's just so difficult."
Mr Ross was a partner in a new Corby nightclub, Rubix, which opened in December.
His friend, Mick Willey, told the programme: "Nearly everything on the horizon looked great for him. He was the happiest I had ever seen him.
"He had achieved a dream of putting his life where he could move forward and he saw that's the way he wanted to go.
"Suddenly it had all been taken from him by somebody, we don't know who,"
Three men have been arrested and bailed in connection with the burglary of Mr Ross's home.
Crimewatch is on BBC1 at 21:00 GMT on Thursday.