Delapre Beer Festival to be run by council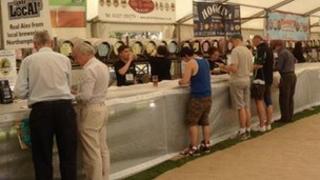 An annual Northamptonshire beer festival will go ahead after a council decided to step in and run it.
This spring's Delapre Beer Festival at Delapre Abbey, Northampton, was under threat after organisers Camra said it did not have enough people to plan it.
Northampton Borough Council leader David Mackintosh said it would have been a "real shame" to lose the event, which he said helps local businesses.
The festival, which attracts 10,000 people, will run from 30 May to 1 June.
Mr Mackintosh said: "Carrying on the tradition, this year's Delapre Beer Festival will continue as a wonderful event that showcases some of our best local brews."
The council has asked for anyone willing to volunteer to get in touch.