Ding murders: Anxiang Du extradited to UK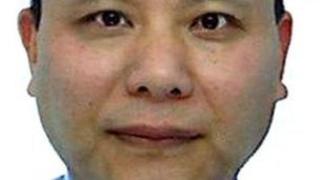 A man arrested in the case of a family of four murdered at their home has been extradited from Morocco.
Jifeng and Helen Ding and their two daughters, 18-year-old Xing and Alice, 12, were stabbed at their home in Wootton, Northampton, in April 2011.
Anxiang Du was arrested in Morocco in July. He arrived at Heathrow Airport at just before 16:00 GMT on a flight from Casablanca.
He is expected to appear at Northampton Magistrates' Court on Thursday.
Northamptonshire Police said the extradition had been approved by the Moroccan Ministry of Justice in conjunction with the Home Office.
The Metropolitan Police took Mr Du into custody on his arrival at Heathrow, where it is likely he will be transferred to Northampton early on Thursday.
Deputy Chief Constable Martin Jelley said: "On behalf of Northamptonshire Police, I would like to thank all those who have been involved in this successful extradition, including Michael Ellis MP for his considerable support in progressing this with the relevant authorities."
Sleeping rough
Mr Ellis, the MP for Northampton North, said the Moroccan authorities had conducted themselves "very well" in helping Northamptonshire Police with the case.
Police believe the four members of the Ding family were all stabbed to death on the day of the wedding of the Duke and Duchess of Cambridge on 29 April 2011.
Mr Ding worked as a lecturer at Manchester Metropolitan University and his wife worked at a school in Northampton.
Police, who had been looking for Anxiang Du in connection with the case, arrested him in Tangier in July.
He boarded a bus at London's Victoria station shortly after the family were found dead and travelled to Paris, through France and Spain, before catching a ferry from the port of Algeciras to the Moroccan city.
A BBC investigation last year found Mr Du had spent 14 months sleeping rough in Morocco before his arrest.
Mr Du, from Coventry, worked at a herbal medicine shop in Birmingham. He went missing a day after losing what had been described as a bitter court battle over his shared business interests with the Ding family.