Barnwell Manor wind farm case judge reserves decision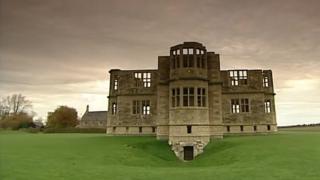 Campaigners fighting plans for a wind farm at a historical Northamptonshire site will have to wait for the outcome of a hearing at the High Court.
East Northamptonshire Council, National Trust and English Heritage said an inspector's approval of the project at Barnwell Manor was legally flawed.
Lawyers for the developers Barnwell Manor Wind Energy dispute the claim.
Mrs Justice Lang has reserved judgement. A decision is not expected for at least two weeks.
The four wind turbines would be built in an area north of Catshead Woods on farmland at Sudborough.
Campaigners told the High Court they would ruin the natural beauty of the area around Barnwell Manor.
'Historic context'
Morag Ellis QC, for the campaigners, said the decision to approve the project was legally flawed and the inspector had "failed to understand" the "historic context" of sites like Lyveden New Bield.
The Tudor building started by Sir Thomas Tresham was never finished after the family fell out of favour for being associated with the Gunpowder Plot.
The Department for Communities and Local Government, joint defendants with Barnwell Manor Wind Energy, had withdrawn from the case before the Administrative Court by letter to all the parties.
The Secretary of State's name remained on court documents but he had no lawyer present.
David Hardy, for the developers, said the inspector fully understood the significance of the site and in the absence of any planning error it was difficult to see how he could have reached a different conclusion.
English Heritage and the National Trust claim losing the case could undermine the protection of other important historical sites.