Floating pennywort down in River Nene, Environment Agency says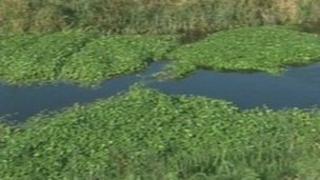 An alien water weed which threatened to "choke" the River Nene in Northamptonshire has been dramatically reduced, the Environment Agency said.
Floating pennywort, which is native to South America, was present along 10.5 miles (17km) of the river in 2010.
Last year the plant was found on just a 4.3 mile (7km) stretch.
The weed can make it difficult for boats to navigate, increases the risk of flooding and can pose a threat to fish by starving the water of oxygen.
The Environment Agency said it was first spotted on a pond near the River Nene in 2004.
A programme to tackle the problem was started in 2007 and has been carried out annually. It involves a herbicide being applied to the plant by hand.
Robert Pitkin, fisheries and biodiversity technical officer, said: "Encouragingly we noted pennywort was absent from sites where we had previously had large populations.
"Although some new patches of pennywort were discovered and treated, the number of sites where it can be found had reduced for the second year running indicating that we are keeping on top of this aquatic invader."