Northampton police sell seized drug gang aircraft on eBay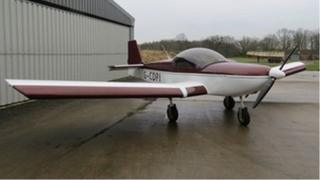 A light aircraft used by a gang convicted of drugs trafficking is to go on eBay with a reserve price of £12,000.
Northamptonshire Police said the plane was used to transport cocaine with a street value of £1.7m into the county.
Six men were jailed in November 2012 and the plane was seized under the Misuse of Drugs Act.
Any money raised from the sale can be used for policing activities and community projects, a spokesman said.
Northamptonshire Police and Crime Commissioner Adam Simmonds said: "I believe this may be the first time a force in the country has seized an aeroplane and is in a position to sell it, so this is a great result for us."
The plane was confiscated by the East Midlands Special Operations Unit which said drugs were taken by road from Amsterdam to France, where they were loaded onto the aircraft and flown into Northamptonshire.
Five men from Corby pleaded guilty to conspiracy to import Class A drugs. Christopher Andrew McGlone, 27, was jailed for five years; James Martin McGlone, 30, six years; Wayne Burgess, 36, four years; Adel Chouhaib, 33, 10 years; and Richard Sweeney Murray, 48, four years. Abdelilah Hilali, 34, of Marsham Street, London, was sentenced to eight years.