Residents reject noisy road solution in Northampton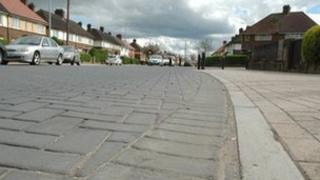 Residents have rejected county council plans that could have reduced the noise of cars on a £1.9m refurbished road in Northampton.
The council offered to remove sections of "rumble strips" that were installed on Gladstone Road to slow traffic.
But the Spencer Dallington Residents Association said the move would fail "to make any meaningful difference".
The council said it stood by its plans and had "no further proposals to offer" residents.
The plans also included spending £50,000 on improving the area by repairing neighbouring side roads.
Still 'speeding'
"Safety is paramount on this busy road in this residential area which features a school, shops and sheltered housing and is on three bus routes," a council spokesperson said.
"The council believes the solution it had offered maintained the improved safety aspects of the scheme while addressing the noise issue - all within the budgets available."
But Labour councillor Gareth Eales, who represents Spencer ward on Northampton Borough Council, said: "The proposals simply do not go far enough to resolve the main issue, which is the noise.
"The impact on people's quality of life and the disruption this surface causes far exceeds any minor speed reduction, if indeed there is any."
Gladstone Road, a link road between Mill Lane and Spencer Bridge Road in Northampton, was refurbished in 2011.
The county council introduced a 20mph speed limit and installed the rumble strips in an attempt to slow cars down.
Great-grandmother Mrs Valerie Holland, 67, who has lived on the road for more than decade, said: "They shouldn't have touched the road in the first place. Now it sounds like we've got aeroplanes taking off.
"We still have a lot of speeding down this road. The council will insist it's gone down, but I can guarantee you that it hasn't."
Mrs Holland said she was aware of a number of residents that had moved from Gladstone Road because the noise levels were so unbearable.