Tiffield Primary School pupils have pub lunches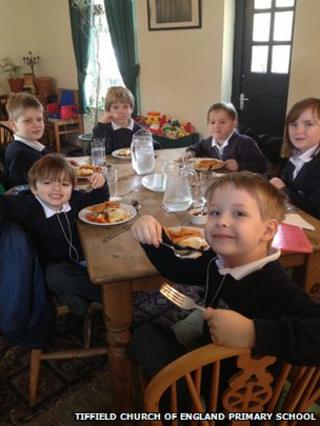 Children at a Northamptonshire school have been going to the pub at lunchtime for a hot meal.
Pupils at Tiffield Church of England Primary School, near Towcester, are tucking into two-course meals at The George, a short walk away.
The visits started two weeks ago after the school was unable to find anyone to serve dinner to its 27 pupils.
Head teacher Eliza Hollis said: "There are no local providers willing to come out to that number on the roll."
Children were only able to take a packed lunch to Tiffield Primary, which has no kitchen, before the dinner club started.
Mrs Hollis said: "We looked at a catering company and also at the local authority to transport the meals as we have a kitchen at my other school but it was not cost effective.
"I'm a firm believer in hot lunches and there has been a massive improvement in attainment and concentration."
The children, aged between four and 11, go to the pub three times a week to be cooked lunch by the landlord, with the menu so far including roast dinners, pasta dishes, sausages and puddings.
'Village community'
Mrs Hollis is head of three schools and she approached the pub after a similar partnership between one of the other schools, Stoke Bruerne Church of England Primary, and its local pub.
She said: "We're a village community and it's important that we are supportive of each other."
Up to 10 pupils have been eating their £3 lunch in a dining area at the back of the pub and Mrs Hollis said parents had been "really supportive".
Mrs Hollis added: "The children learn table manners and the older ones mentor the younger ones.
"It's about life skills and the children really enjoy it as they feel like little adults going out for lunch."