Harry Connolly death: GP Dr Aboo Thamby given warning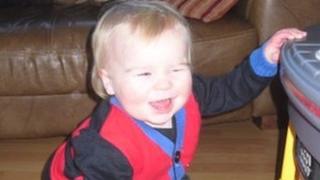 A doctor has been given a formal warning for failing to properly examine a toddler who died two days later.
The General Medical Council (GMC) heard how Dr Aboo Thamby saw 19-month-old Harry Connolly in April 2011.
The toddler had diarrhoea, lethargy and did not want to eat, the GMC was told. Harry died of renal failure and dehydration.
The GMC warning said Dr Thamby had failed to check Harry properly or to arrange hospital admission.
Dr Thamby had seen Harry during an out-of-hours consultation.
Standards
An inquest last year heard how Harry had previously twice been taken into hospital before he was seen by Dr Thamby.
After the inquest, Northampton General Hospital apologised and said key procedures had not been carried out.
Dr Thamby, a GP at Kingsthorpe Medical Centre, also failed to take an adequate history of a second patient who telephoned in July 2011 with "severe abdominal pain".
The next day that patient needed emergency surgery in hospital for a gangrenous appendix.
The GMC said: "This conduct does not meet with the standards required of a doctor.
"It risks bringing the profession into disrepute and it must not be repeated."
GMC chief executive Niall Dickson added: "This was a terrible tragedy and our sympathies go out to Harry Connolly's family.
"It was a complex case where a number of doctors saw Harry. We concluded that Dr Thamby's actions did not meet the standards we expect.
"Dr Thamby has been given a formal warning, which will remain on his public record until 2018 and will be disclosed to all future employers."
Dr Thamby declined to comment on the warning.