Kettering East: Compromise deal agreed over funding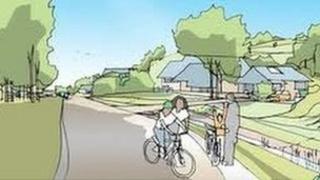 Plans for more than 5,500 homes in Northamptonshire are back on track after a council agreed a compromise deal with developers.
Alledge Brook LLP's Kettering East project for land near Barton Seagrave won approval in principle in 2009.
Developers said they could afford the initial £95m earmarked for roads, schools and community centres.
Kettering Borough Council has agreed a deal where money is paid as each house is built.
The plan, discussed by the authority's planning committee on Tuesday night, will see the developer pay between £15,000 and £17,000 on each property, rather than an upfront fee.
That could generate around £73.4m for the infrastructure work.
Housing shortage
In a report, the council's major projects manager Adrian Arnold had said if nothing was done "the likelihood of the development commencing" was "very small" because of "the size of the financial gap".
The situation emerged four months after Deputy Prime Minister Nick Clegg hailed the development as a major new scheme which needed moving forward.
Conservative councillor Derek Zanger, of Kettering Borough Council, said: "It's important that this development gets off the ground. There's a shortage of housing development. It's well-known throughout the country."
He added: "This will actually bring in millions of pounds to the economy of the borough."
The cut in funding offered would mean the number of primary schools planned reduced from four to three, £5m less to be spent on roads and the amount offered for open spaces lowered from £7.5m to nothing.
Stephen Pickard, of neighbouring Cranford Parish Council, said there had not been enough time for the plans to be studied by local people.
"In simple terms, we would have liked to have been consulted and have had time to read the documents and respond to those documents in a constructive and positive way," he said.
"That right has been denied us."
Further conditions linked to the development will be considered at a later date.