Northampton to host World at Your Feet conference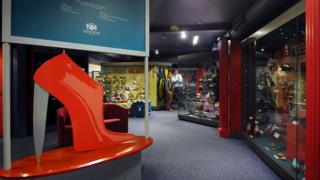 For some they are objects of desire, for others simply protection for the sole.
Yet a world without shoes would be very different to the one we know.
Would Everest have been scaled, the Moon walked upon or the north and south poles reached without footwear?
The importance of shoes in world history has not been lost on a group of global footwear experts poised to convene in Northampton.
The town was chosen as host town for the conference because its museum is home to the world's largest collection of shoes.
Northampton Museum boasts 12,000 examples of footwear from across the world and the ages.
Some exist purely for sexual fetish. Impossible to stand up in, these shoes confine the wearer to recumbence.
These are the favourites of Prof Giorgio Riello, from the University of Warwick.
He will be the keynote speaker at the two-day World at Your Feet footwear conference starting on Wednesday at the University of Northampton.
His speech "The Art of the Shoe: Poetry and Pornography of a less-than-pedestrian artefact" will touch on the role of the shoe as a fetish object, as art and as a symbol of excess among the wealthy.
The shoe, he says, is a useful prism through which to view culture and history.
A native of Padua, famed for its shoemakers, Prof Riello said: "Shoes are a way in which we interact with the external world. We are nearly always touching the floor.
"The removal of shoes in many cultures plays a role in concepts of purity, for example in Japanese or Islamic religious tradition.
"And in Europe too - it was not long ago that shoes were left outside to keep the inside of the home clean. We would have outdoor and indoor shoes."
So how important are shoes?
Prof Riello's view is as stark as it is simple: "We can get by without cars, but not without our shoes."
Other papers to be presented at the conference include shoe manufacture in China, the subculture surrounding the shoes of designer Vivienne Westwood, the popularity of Clarks Originals in Jamaica and how World War Two shaped the development of the stiletto in the 1950s.