Wellingborough council suggests moving market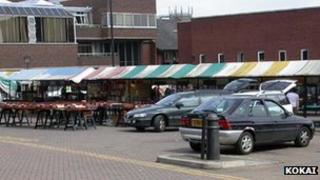 Wellingborough's market could be moved in an attempt to boost trade, the borough council has said.
It is recommending the market move from its current position off Market Street to Orient Way and Market Street for a four month trial.
Councillor Tim Allebone, chairman of the development committee, said the market was currently "not easily visible".
The committee will discuss the potential move on Tuesday.
An independent review of the market by the National Association of British Market Authorities found people were not turning off the main thoroughfare of Burystead Place and Market Street to visit the market.
Mr Allebone said: "Even though markets all over the country are struggling, we believe we can do more to make ours more vibrant and successful than it is at the moment.
"We met with the traders and they expressed a desire to relocate the majority of the stalls down into the main part of the town centre."
Mr Allebone said, if approved, the trial would start "as soon as it's feasible".
The council operates the market on Wednesdays, Fridays and Saturdays and a privately-run bric-a-brac market is held on Tuesdays.