Northampton's derelict waterside land to become new offices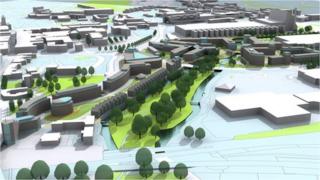 Work is to start in the summer on development of derelict land along the riverside in Northampton.
Compulsory purchase powers have been granted by the Secretary of State for Communities and Local Government to West Northamptonshire Development Corporation (WNDC).
The order covers five acres (2.4 hectares) of St Peter's Waterside.
WNDC said the compulsory purchase order would allow work to start between the River Nene and St Peter's Way.
Plans have been laid down for up to 430,000 sq ft (40,000 sq m) of office space in the area.
Development will start with a six -storey innovation centre, which begins construction this summer.
Chris Garden, WNDC director of regeneration said: "We have been buying land in the area for some time, but this compulsory purchase order means we have consolidated various sites and can press ahead with our plans.
"There will be cranes in the skyline this summer, with work starting on the first phases of development and demolition.
"Meanwhile, directly opposite the site, construction will be underway on Northampton's new railway station."