Daventry Skate Park: Green light for larger facility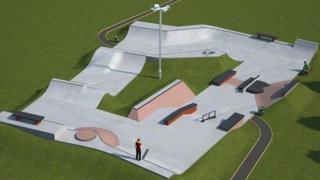 A new £135,000 facility for BMX riders and skateboarders is to be built in Daventry after young people called for an "improved skate park" in the town.
Work on the New Street Recreation Ground site will start in April. The park will be twice the size of the current skate facility.
Finn Pickard, 16, who runs a portable skate park in the town, said helping design the new park was "amazing".
Funded by Daventry District Council and partners, the park should open in July.
It has been designed by skate park constructors Wheelscape with input from Daventry's young skaters.
"We worked with the council to find a company to build the park that would really let us max out what we'd get for the budget," said Finn.
"The whole experience was amazing and it's great to have something like this for young people in Daventry."
The park has been designed so it can be used by skateboarders, BMX and scooter riders of all abilities.
Matthew Popek, from Wheelscape, said Finn and the council wanted the design to be appealing to other park users.
He added: "The guys also came up with the great idea to have some sort of homage to local street spots that they could no longer ride but were once really enjoyed, so we included a brick-effect volcano like the one at the local library."
Councillor Alan Hills, portfolio holder for community, culture and leisure at Daventry District Council, said he hoped young people in the area would "be very happy with the final design when it opens in the summer".
Developed as part of the town's Queen's Diamond Jubilee celebrations, a play area for young children will also be built on the site once the park has opened.