Delapre Abbey granted £400,000 for urgent repairs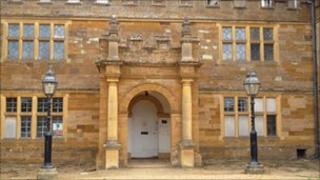 A £400,000 grant is to be spent on urgent repairs at a historic building in Northampton.
The work at Delapre Abbey will include roof improvements to prevent leaks, which have damaged the inside of the 850-year-old landmark.
The building's north wing is to be structurally repaired, with the work due to start in the late summer.
English Heritage and Northampton Borough Council are each contributing £200,000 to the project.
Council leader David Macintosh said: "The restoration of Delapre Abbey is something we all want to see.
"The abbey is an important part of our town's future and a link to our rich heritage."
Anthony Streeten, English Heritage's planning and conservation director for East Midlands, said: "The abbey has been on our Heritage at Risk register for many years and we hope these repairs will help get this important building's future secured."
The outcome of a £3.6m bid to the Heritage Lottery Fund to transform the main abbey building, its 18th Century stable block and 19th Century stable yard should be announced in the summer.