Farmers 'abandoned' due to heavy snow in Northern Ireland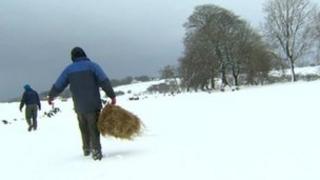 Farmers have been "abandoned and left to fend for themselves" as heavy snow continues to block roads, a Northern Ireland Assembly member has claimed.
Independent MLA Basil McCrea described the situation as "an emergency" and called on the Stormont's Department of Agriculture to respond.
Sinn Fein's Oliver McMullan said blocked roads in north Antrim were badly affecting rural families.
The MLA said the weather conditions were the worst he had seen in years.
Mr McMullan said he has taken several calls from concerned constituents, some of whom have not been able to access their farms and homes since Friday due to impassable roads.
He said they were asking for more help because they have not been able to feed their animals or check on them for days.
Battle
He added that it was the "worst possible time" for such a thing to happen as many stranded sheep were lambing.
Both Mr McMullan and Mr McCrea paid tribute to emergency crews who were trying to clears roads and restore services, but they said much more had to be done.
In a statement, Mr McCrea said: "As emergency services battle valiantly to restore power and services to the greatest number of affected people, those living in isolated and rural areas, particularly farmers, are abandoned and left to fend for themselves.
"The snow is simply too deep for even farming equipment to clear the minor roads. Animals are in distress because of lack of feed, farm buildings are collapsing."
The Lagan Valley MLA said farmers who were trying to reach their animals were facing serious dangers.
Rescue team
Mr McMullan, who lives in a rural area near Cushendall, said the snow at his own house was in excess of 3ft (0.9m) in height and was blocking his windows.
He said the snow had reached the same height as fences along some rural roads and farming families could not clear it without help.
The Sinn Fein representative said a local mountain rescue team had to be called in to bring medication to an elderly woman who has been snowed in since Friday.