Corby's Geddington Road bridge: Council seeks legal action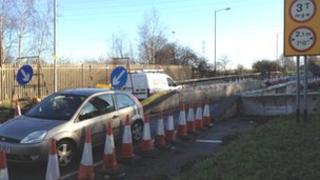 Legal action may be taken against the owners of a weak bridge in Corby which has been closed to lorries.
Restrictions on Geddington Road bridge in Corby have prevented vehicles weighing more than three tonnes from crossing since January 2011.
Northamptonshire County Council said it would pursue an enforcement action to get the bridge owners Tata Steel Ltd to carry out £1m strengthening works.
The company said it has assessed the bridge and was talking to the council.
Lorries have had to take a three-mile diversion and concrete chicane blocks were put on the bridge to stop trucks crossing.
Lea Kernaghan, a director of DK Concrete Ltd on Geddington Road, said: "It's absolutely been a nightmare because our lorries have to go the long way round and it costs us diesel and affects every haulage company along this road."
'People inconvenienced'
Kevin Latimer, managing director of Corby Hose & Hydraulics, said: "We also have other customers who don't like bringing their vehicles through the blocks."
Andy Sawford, MP for Corby and East Northamptonshire, said: "The council doesn't seem to care about the inconvenience and costs that local people and businesses are incurring.
"It shouldn't be too much to ask that after all this time the council gives us a date for when the road will be properly reopened."
The council, which has responsibility for the road, said it was considering its position and had instructed its legal team.
In a letter to Mr Sawford, Debbie Thorne, head of the council's highways department, said: "The concern about [the council] carrying out the works without a court order is that the council may not be successful in recovering the costs of the works and therefore would be out of pocket.
"Unfortunately, I am unable to say when the work is likely to be carried out."
A spokesperson for Tata Steel said: "We are in discussion with the county council while technical assessments are under way."