Northampton's £14.5m boost for regeneration projects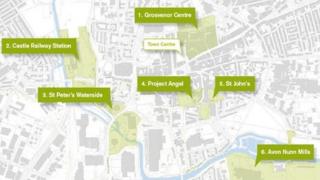 Regeneration schemes in Northampton will receive £14.5m from a development corporation in its final year.
The money will be shared between the town's new railway station and the St Peter's Waterside office development, which includes an innovation centre.
The funds come from the West Northamptonshire Development Corporation, which closes in 2014.
Since 2004, the corporation has worked with local authorities to help deliver six major projects in the town.
They are a new bus interchange at the Grosvenor Centre, the Castle Railway Station, St Peter's Waterside, the office development Project Angel, a hotel and student accommodation complex at St John's and the Avon Nunn Mills university campus.
The corporation's chief executive Peter Mawson said: "By March 2014, we will have invested over £100m in the development of West Northamptonshire.
"However, the full effect of this investment will be felt in the coming months and years, with huge improvements across Northampton, Daventry and Towcester."
The corporation has published its last business plan.
From 31 March 2014, its local authority partners will be responsible for delivering the uncompleted projects.