Northampton Lamport Hall three-seater 'Bog House' on show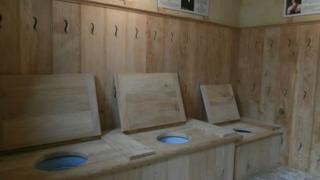 An 18th Century toilet capable of seating three people has gone on public display for the first time in more than 100 years after being restored.
The outdoor Bog House would have been used by generations of gardeners working at Lamport Hall, near Northampton.
It consists of one wooden bench and no partitions between the seats.
The contents of buckets beneath would have been emptied on to the gardens, a property spokesman said.
Neil Lyons, assistant property manager, said: "The trust which looks after Lamport Hall has been steadily restoring the house and gardens over the past 40 years.
"Our latest project was to restore this outdoor loo, which the gardeners would have used in days gone by.
"As there was no running water or sanitation, there were buckets below the seats.
"These would be emptied by the gardeners and used as fertiliser.
"It may all sound rather primitive, but it was environmentally friendly; many of the villages in Northamptonshire were not connected to the main sewage system until the 1950s."