Residents continue Northampton noisy road fight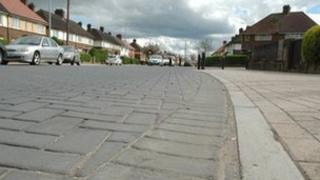 Householders are to continue their fight against a "rumble strip" on a Northampton road after a council refused to take any more action.
Gladstone Road residents are being kept awake by the noise of cars on the road.
The council offered to remove part of the strip, but residents said it would not make a "meaningful difference".
Northamptonshire County Council said no more action would be taken. Labour councillor Gareth Eales said the fight by residents would continue.
A council spokesman said the strip improved road safety by reducing vehicle speeds.
'New tests'
"Residents have raised concerns that the surfacing materials used to slow vehicles can be noisy, particularly in wet conditions," he added.
"The solution offered to residents increases the stretches of relatively quiet highway and introduces vehicle activated signs and new road markings.
"The council has no further proposals to offer - the council believes the solution it had offered maintained the improved safety aspects of the scheme while addressing the noise issue - all within the budgets available."
Mr Eales, who represents Spencer ward, said the county's "solution" did not reduce the noise.
He said: "Residents won't be going away lightly. We are requesting that [the council] do impartial sounds tests to see if it is an environmental issue."
Gladstone Road, a link road between Mill Lane and Spencer Bridge Road in Northampton, was refurbished in 2011.
The county council introduced a 20mph speed limit and installed the rumble strips in an attempt to slow cars down.