Social fund changes in Northamptonshire will create 'losers'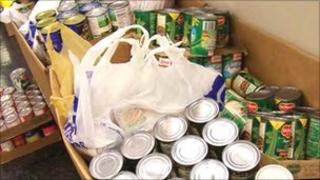 Changes to the social fund for poorer people will create "losers" in Northamptonshire, its critics claim.
The county council has been given £2m by the government to replace some of the abolished hardship payments.
Critics said the new system was confusing and the Citizens Advice Bureau said some people would lose out.
The Conservative-run council said it would focus on helping those most in need and people could still apply for crisis loans from the government.
The changes follow the government's abolition of the discretionary elements of Community Care Grants and Crisis Loans where people could apply for one-off payments for things like furniture.
The funding aimed to replace this, but it has been up to local authorities to decide how to spend it.
'On the breadline'
Martin Lord, from Northampton Citizens Advice Bureau, said there was "a lack of clarity".
"I'm sure once the changes have bedded down we will have a greater idea of what is and is not available, but there will be a lot of losers, there's no doubt about it." he said.
Chris Stanbra, Liberal Democrat county councillor, said: "In six months in 2011-12, there were 9,700 crisis loans with an average of £53 given out, so where will these people go?"
Bob Scott, Labour county councillor, said: "If you're on the breadline and your mother dies in Scotland, how are you going to get up there without a cash loan?
"It should be responsive and I don't think those systems are in place."
The Conservatives on the council said people on benefits who had run out of money could still apply for a crisis loan from the Department of Work & Pensions as before.
'Open to fraud'
The council said it would focus spending the £2m on people who had been in prison or in care.
It said people could apply to the council for help for independent living, but it would also be supporting food banks and furniture charities.
Heather Smith, Conservative county councillor, said: "The previous system, via national call centres, was wide open to fraud and it's been devolved down to us because we are more likely to know these families, and if there are children involved, we need to know about them.
"We consulted the voluntary sector who made it clear to us not to give people cash, but to give them vouchers for things like food banks to provide goods for them.
"We're still working on a lot of this, but our aim is to help the people who are genuine."