Persimmon Matthew Green mantelpiece death case dropped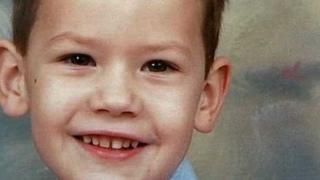 A house builder charged after a four-year-old boy was crushed by a fireplace will face no further action due to "inconsistencies" in the inquiry.
Matthew Green died after a 110lb (50kg) fireplace collapsed on him at his Northamptonshire home in 2005.
The Health and Safety Executive (HSE) charged Persimmon Homes with a health and safety breach, which it denied.
Matthew's parents said they were "at a loss to understand" and felt "justice has not been achieved".
Kristian Childs, whose company KD Childs of Northampton fitted the fireplace, will be sentenced in June.
The HSE confirmed the charge against Persimmon Homes had been dropped.
'Loud crash'
"It emerged there were inconsistencies in the way HSE had treated Persimmon Homes compared to other companies who had had fireplaces installed by KD Childs," a spokesman said.
"The decision was therefore taken to withdraw the charges against Persimmon Homes."
Matthew had been at home in Towcester with his father on 15 October 2005 when Mr Green heard a "loud crash" and found his son under the stone mantel.
He was taken to Northampton General Hospital by air ambulance, but died later.
An inquest held in 2008 heard there had been "insufficient" mortar and no extra screws or metal dowels recommended by experts, and that a fireplace had previously fallen at another Persimmon site.
Persimmon Homes, like Mr Childs, had been charged with failing to discharge its duty with the design and installation of the fireplace, thereby exposing Matthew to danger.
'Needless' death
Mr Childs pleaded guilty in April 2012 and is due to be sentenced at Northampton Crown Court.
A statement from the Green family said: "We have been fighting for justice for Matthew for over seven years and major inconsistencies in the way in which HSE have investigated this case have ultimately led to this case being dropped.
"While we are grateful to HSE for pursuing the responsible parties, we do feel that had this been investigated in a different way then the charges against Persimmon Homes would not have been dropped.
"We will never get over the needless and preventable death of our son and do not feel that justice has in any way been achieved by this outcome."
Persimmon Homes, which sold the house to the Greens in 2003, said its thoughts were with Matthew's family.
"We have co-operated fully with the courts and enforcing authorities from the beginning of this matter and are pleased that it has now been brought to a close," it added.