Northampton council flat used to store tools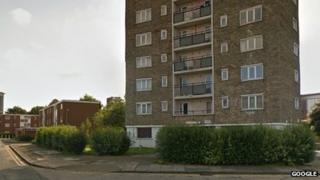 A council flat in Northampton has been used for more than seven years to store tools despite 3,800 households on the waiting list.
The one-bedroom property in St Katherine's Court, Castle Street has not been lived in since October 2005.
Campaigner Norman Adams, of Northampton Defend Council Housing, found the flat had been empty after submitting a Freedom of Information request.
Northampton Borough Council said the property would be rented this summer.
Mr Adams, 65, from Northampton, said the council's decision to use the tower block flat to keep tools in was "disgusting."
He said: "While storing tools in that flat they've been paying to put people in bed and breakfasts.
"If people are on the streets looking for housing, then they have been suffering out in this weather."
Tools, fittings and spare equipment were kept at the St Katherine's Court flat for the complex's refurbishment and other work in the area.
A one-bedroom flat in the block costs around £70 a week to rent.
The council, which has around 12,000 homes, is now updating the property and expects it to be back in use by the mid-June or early July.
A council spokesman said: "The property had been used as a storage area, this is no longer required so we are in the process of bringing it back into use.
"Work started a few weeks ago and the flat will be used as temporary accommodation, for those who need somewhere to live while we look for a more permanent home for them."