Protesters march against Corby industrial park plans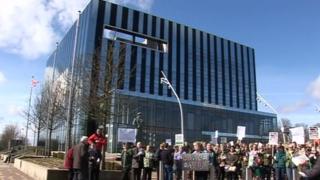 Protesters have marched through Corby to demonstrate against plans for an industrial park near the town.
About 150 people marched to the Corby Cube, handing in a petition opposing Brookfield Resource Recovery Park.
They hope to prevent the building of the park and a waste incinerator, which has already been granted planning permission, adjoining the site.
Developer Gretton Brook Estates said many concerns were exaggerated, and that the park would create 3,000 jobs.
The industrial park is proposed for the Brookfield Plantation between Corby and Gretton.
Planning consent for an "energy-from-waste" incinerator on an existing industrial estate was granted in 2009.
'Country's dumping ground'
Now the developer has applied for permission to build an industrial park containing related businesses.
Protesters argue the proposed development will destroy wildlife habitat, generate smells, attract flies and increase lorry movements.
The protest on Saturday was led by Corby borough councillor Rob McKellar, Conservative member for Weldon and Gretton.
"People here don't want to see Corby and surrounding villages turned into this country's dumping ground," he said.
Bob Cunningham, of Corby Against Rubbish Recovery Plant (Carrp), said: "In stopping those developments, we hope we can stop the incinerator."
In a statement, Gretton Brook Estates said claims that residents in nearby villages would be forced to endure unpleasant odours and noise pollution were incorrect.
It said concerns over lorries, the destruction of woodland and the visual impact of the scheme had also been exaggerated.
Doug Wright, managing director, said: "This concept, which has already attracted the interest of a number of investors, is a modern solution which is in demand and which had the chance to put Corby ahead of the game."