Northampton former mail sorting office future in doubt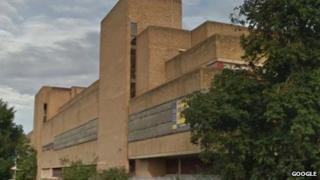 The future of a disused mail sorting office in Northampton is still in doubt after permission to screen the building with advertising hoardings was refused.
The former sorting office on Barrack Road in Semilong has been empty since a fire in 2003.
Last year Tesco pulled out of a deal to turn it into a supermarket.
The Royal Mail now wants to use the site for advertising, but Northampton Borough Council has refused permission.
In a statement the council said the Royal Mail had asked to screen the former sorting office behind three large advertising boards.
"Together the advertising boards would stretch almost 100 ft (30m) across the front of the building," it said.
"The [planning] committee did not consider that there was an over-riding need to screen the building, in spite of its current condition."
The Royal Mail has appealed to the national planning inspector against the decision.
The case will be reviewed with a decision due in two months.