Lorry hits Althorp railway bridge in Northamptonshire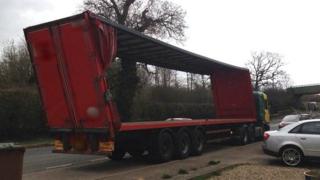 A lorry has been damaged after its driver attempted to take it under a railway bridge in Northamptonshire which was too low for it.
It happened at about 11:00 BST on the A428 near Althorp Hall and East Haddon.
Police said no other vehicles were involved and, although the driver was not injured, his trailer was bent backwards.
Trains were slowed down for about an hour but Network Rail said there had been no damage to the bridge.
PC Dave Lee, the traffic policeman who took the photo, wrote on Twitter: "What a trailer shouldn't look like - it's going to be expensive.
"This lad knew the height of the truck. Unfortunately he didn't count on the height of his trailer. Luckily he was empty."