World Conker Championships move to Southwick to beat wind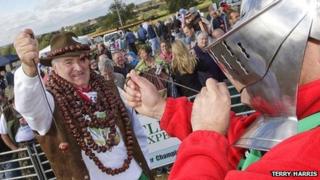 The World Conker Championships is to switch Northamptonshire venues in a bid to beat the elements after wind postponed it for the past two years.
The 47-year-old contest moved to Polebrook, in Northamptonshire, from neighbouring Ashton in 2009.
Now organisers plan to move this year's competition, planned for October, to the more sheltered surroundings of Shuckburgh Arms, in Southwick.
Ashton Conker Club's Steve Kisby said the clash would "go back to its roots".
"We're going for a village fete feel this year," he said.
"We've been disappointed the last couple of years with the bad weather. The site at Polebrook in Northamptonshire is a bit of an exposed site and that's what threw us and we had to jump to recover after that."
The contest first began on Ashton village green in 1965 after local pub regulars abandoned their fishing trip due to the bad weather.
A small prize was awarded to the winner and a collection was made for charity by someone who had a blind relative. This then became an annual event, with entrants increasing in number and resulting money being donated to the Royal National Institute for Blind People (RNIB).
In 1976, the title was won by a foreign player for the first time - Mexico's George Ramires - even though he had never seen a conker before.
By 1998, about 50 overseas players were competing regularly. To date, more than £400,000 has been raised for charity.