Carolanne McKinty wins benefits fight over Corby home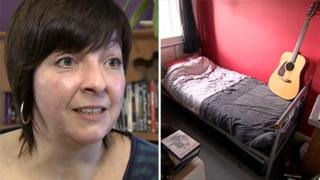 A woman who faced having her housing benefits cut because of unused bedrooms in her Northamptonshire home has had the decision overturned.
Carolanne McKinty, from Harpers Brook, Corby, was due to face a 25% reduction in benefits for having two spare rooms.
She discovered her three bedroom home is actually no bigger than some of her neighbours' two bedroom properties.
The Asra Housing Group have agreed the property will now be classified as a two bedroom house with study room.
She will now face a 14% reduction in benefits for the one spare bedroom.
"The houses of this design were given the option to either be two or three bedrooms," said Ms McKinty.
"This one ended up being a three bedroom property, which is exactly the same size and exactly the same shape inside [as two bedroom properties on the estate] apart from the extra partition wall."
Ms McKinty fought the matter with the Asra Housing Group, arguing the rooms were too small to rent out and that two bedroom houses on the estate of the same design actually have more overall floor space.
She said: "I'm unemployed for the first time in 18 years, so it's quite a shock to a system for me to be on benefits anyway and it was something , a further cut, that I really, really couldn't manage."
Asra Housing told the BBC they "are working closely with local authorities to pool housing resources in order to enable customers to move, if they are under occupying" and "helping customers claim all of the benefits they are entitled to".