River Nene: Silt removal aimed at improving navigation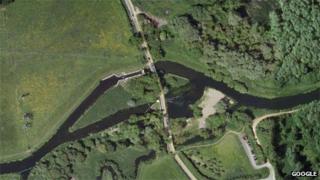 Work has begun on removing several tonnes of silt from the River Nene in Northamptonshire.
The Environment Agency work upstream of White Mills Lock near Grendon is designed to improve navigation for boaters.
It will also reduce flood risk in the area by increasing the volume of water that can safely flow through the river.
Between 6,000 and 7,000 tonnes of silt will be removed from the river and the project will cost £400,000.
Environment Agency project manager David Watts said: "If left, this silt could make boating difficult or hazardous.
"As navigation authority for the River Nene, we have responsibility to maintain the river for boaters and other river-users."
The silt will be removed from the river using an excavator on a barge.
Navigation will be restricted along the river while the work takes place, but access will continue.
"This will help to make sure people can continue to enjoy the river ready for the start of this year's spring and summer boating season," Mr Watts added.