Northampton roads litter collections resume after 'incident'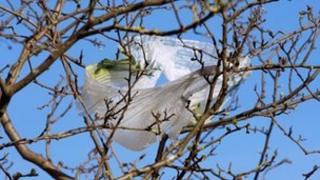 Litter collecting has resumed on dual carriageways in Northampton after being suspended over an incident four months ago that left a contractor injured.
Northampton Borough Council said the Health and Safety Executive was reviewing the incident but they declined to give any more details.
The incident on the A45 road happened before Christmas and the worker "was not seriously hurt", a spokesman said.
Verges and hedges became badly littered so the council has resumed clearances.
The injured worker was employed by the company that collects roadside rubbish for Northampton Borough Council who had carried out its own inquiry.
It was decided that regular night time collections would remain suspended and work would resume only during daylight hours.
Brian Skittral, from the Northamptonshire branch of the Campaign to Protect Rural England, said littering was a big problem and he was mystified why people did not keep their county clean.
"It was right to pause and find out what went wrong over the incident but four months is a long time to learn any lessons," he said.