Northampton Town's Sixfields development deal 'close'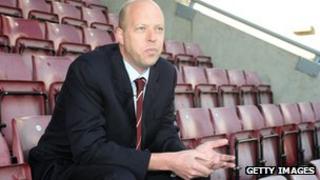 Northampton Town Football Club's chairman says he is just a few weeks away from securing agreements to redevelop land around the stadium.
David Cardoza said, after over six years of talks with the local council, he is close to reaching deals with one or two new partners.
They aim to build homes and shops at Weedon Road and redevelop the Sixfields stadium.
The club said it also intended to relocate the athletics track.
Mr Cardoza said: "We're very close to getting a scheme together which will lead to enhancing the facilities at Sixfields.
"It's almost coming to fruition and we'll be able to make an announcement within four to eight weeks.
"We've been a number of years in getting to this point, but I hope we can move forward finally."
The League Two football club has a 150-year lease on the freehold of the stadium from Northampton Borough Council.
The rest of the land is owned by the government's Homes & Communities Agency, which has also been involved in the discussions.
The club said it aimed to redevelop Sixfields's east and west stands and increase the stadium's capacity from 7,600 to about 10,000, but it would be dependent on which division the club was in at the time.