Sun Inn in Kislingbury: Families buy pub for village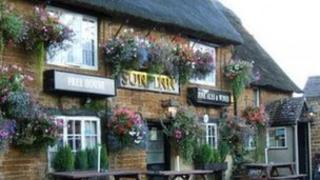 Five families have come together in a Northamptonshire village to buy the local pub and run it for the community.
The Sun Inn, in Kislingbury, reopened for business on Saturday after three months of work.
Nick Bowler, one of the people behind the scheme, said the pub had gone into administration and then closed down.
"We did not want it turned into a house or disused building because it was our village pub so we got together and bought it," he said.
"For over 20 years we have come down here at weekends and it's where the village gathers so we want to keep it as part of the community."
Essential work had to be carried out to upgrade the electrics in the pub and the piping from the beer cellar.
"We also had to learn the trade from pulling pints to using card machines.
"Many of the villagers helped by giving time and skills to help with the refurbishment, laying out the garden, putting down carpets and cleaning.
"It's going to be a long learning curve now and we know it will be tough as we're not on a main road so there will be no passing trade."