Super Sausage cafe ranked top eatery in Northamptonshire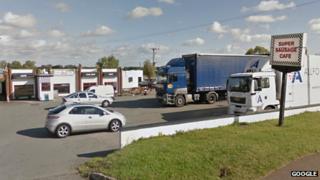 To most passing motorists, it probably looks like any other roadside cafe.
But the Super Sausage Cafe, next to the A5 in Potterspury, near Towcester, is much more than that, according to one travel review website.
In a list of 607 places to eat in Northamptonshire on TripAdvisor, it has been ranked at number one, based on diners' reviews.
The cafe specialises in all-day breakfasts and is placed above restaurants praised in the Michelin Guide and gastropubs with award-winning chefs.
Owner Chris Murray said his ingredients were "as good as anything you would get at the Dorchester".
"It's top quality food we serve, and good portions," said Mr Murray, who took over the cafe with his wife, Gail, four years ago.
"We work hard and we've built ourselves a good team.
"We do 1,200 covers a week, year round, and we're only closed on Christmas Day and Boxing Day," he said.
'No cheapie stuff'
Balsamic drizzle, jus and confits have no place on the Super Sausage menu, which is bursting with butties, fry-ups, burgers and daily specials such as pork chop with mash and vegetables.
A waiter will not show you to your seat - the chairs are fixed to the floor - and there is no silver cutlery or fresh flowers next to the squeezy bottles of ketchup.
There is no wine list either, but plenty of tea, coffee, cold cans and milkshakes.
It is a recipe that works for the cafe's customers, who include police officers, lorry and taxi drivers, businessmen, pensioners, families and "bikers on sunny weekends", Mr Murray said.
"We often have Mercedes and Porsches in the car park," he added.
TripAdvisor, which allows the public to review hotels, restaurants and attractions all over the world, said Super Sausage's top slot showed the "beauty" of the ranking system.
Super Sausage Cafe had received 91 reviews by Thursday - far fewer than many lower-ranking restaurants - but 73 had said it was "excellent" and the rest "very good".
A spokeswoman for Tripadvisor said its site allowed "the small guys, who have little or no marketing budget, to stand toe-to-toe with the big guys for the right reasons - excellent customer service, experience and value".