University of Northampton: Waterside campus plans on show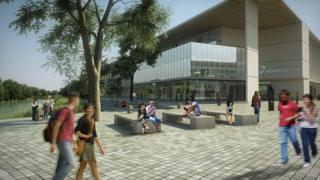 Plans for an "exciting" new £330m town centre campus have been revealed by the University of Northampton.
The university is planning to relocate from its current sites in St George's Avenue and Boughton Green Road, to a 55-acre site at Nunn Mills Road in the town's new Waterside Enterprise Zone.
Vice-chancellor Prof Nick Petford said the development would "secure the future" of the university.
The plans are to be exhibited in the town's Grosvenor Centre on Saturday.
An outline planning application will be submitted later in the year.
The university, which has 14,500 students, hopes groundwork could start in 2014, with the campus opening in autumn 2018.
Prof Petford added: "The proposed Waterside campus is a hugely exciting development for the university.
"We have worked hard to create proposals for a campus development with state-of-the-art facilities for our students, staff and the community of Northampton.
"The university has a long history in the town and being a part of its growth is very important to us."
Councillor David Mackintosh, leader of Northampton Borough Council, said the plans are "tremendous news" for the development of Northampton as a university town.
He added: "Bringing the university into the Waterside area is a key part of the Northampton Alive regeneration programme and would be a massive boost to the local economy, as well as creating vital links with business in the Waterside Enterprise Zone."