Daventry council criticised over disabled man's home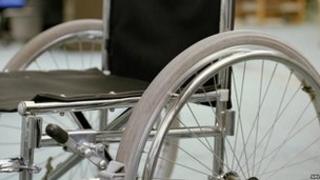 A local authority in Northamptonshire that kept a disabled man in unsuitable accommodation for three years to save money has been told to apologise.
Daventry District Council failed to adapt the unnamed man's property, the Local Government Ombudsman said.
Work to create a downstairs bedroom would have cost £5,000 more than the statutory funding.
The man will now have to wait until a council meeting assesses the ombudsman's report, the council said.
The ombudsman investigated a complaint the council failed to deal properly with the man's application to adapt his property in November 2010.
The alterations were needed because he suffered with a degenerative medical condition and uses a wheelchair.
The estimated cost was more than the statutory maximum grant of £30,000. The council identified an alternative scheme through the county council.
Unacceptable delays
This could fund the work at no cost to the council. However, this application was delayed and was ultimately unsuccessful.
As early as October 2011 the housing association offered to top up the £5,000 needed to fund the original build, but the council insisted on pursuing the alternative scheme till as recently as March 2013.
Daventry District Council has been recommended to apologise and pay £5,000 for the stress and anxiety caused.
Ombudsman Dr Jane Martin said: "While I recognise the financial constraints local authorities are under in the current economic climate, I find it unacceptable that this much-needed work has been held up for so long."
Maria Taylor, community manager at Daventry District Council, said: "Our members will now consider her report and any actions required at a future council meeting."