Rushden Lakes retail park: Public inquiry begins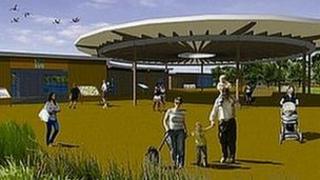 A two-week public inquiry has begun into plans for a £50m out-of-town shopping centre in Northamptonshire.
Plans for the Rushden Lake retail park were approved by East Northamptonshire Council in October, but some local councils objected saying it would attract trade away from their towns.
The matter was referred to Communities Secretary Eric Pickles, who called in the application for further scrutiny.
An independent planning inspector has been appointed to oversee the inquiry.
The proposed development, on the site of the old Skew Bridge Country Club and dry ski slope on the outskirts of Rushden, would include 20 shops and could create 1,500 jobs.
The 244-acre (99 hectares) brownfield plot would also include a hotel, restaurants and garden centre.
While East Northamptonshire and Wellingborough councils support the project, those in Northampton, Kettering, Corby and Bedford are opposed to it.
Objections include potential job losses if the retail park reduces footfall in surrounding towns.
During the inquiry, government-appointed planning inspector, Harold Stephens, will hear from members of the public, local businesses, neighbouring councils, politicians and planners - both in favour and against - the development.
The inquiry is taking place at East Northamptonshire's council offices in Thrapston.