Northampton Royal Mail strike action averted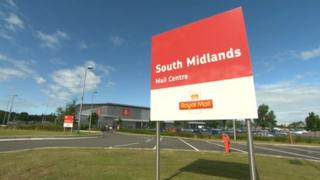 A strike by nearly 1,000 Royal Mail staff has been averted after bosses and union leaders reached an "in principle resolution".
The union representing workers at the South Midlands Mail Centre in Northampton was in dispute with the Royal Mail over job cuts.
On Monday a Communication Workers Union spokesman said the agreement was expected to "resolve all local issues".
"There will be no impact on service and no requirement for a ballot," he said.
The centre, in Swan Valley, serves Northamptonshire, Milton Keynes, Coventry and Warwickshire.
Gareth Eales, area processing representative for the union, said tensions began when management refused to honour a local agreement on filling vacant roles at the centre.
Last week, he said: "Industrial relations have been deteriorating for the last six months or so, and the hard work and goodwill shown by the union and its members in opening the new mail centre has been traded for the pursuance of single rather than mutual interests."
He cited "unsanctioned budget savings, targets and poor industrial relations" as two reasons for the dispute.
However, following Monday's talks, the CWU and Royal Mail issued a joint statement confirming an "in principal resolution" had been reached.
The agreement will now be put to CWU members for acceptance.