Two children saved from the River Nene in Denford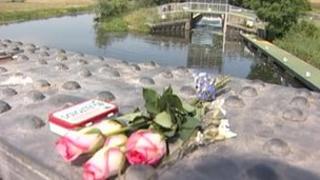 Two children have been pulled out of the water near where a 15-year-old boy drowned last summer, police have said.
The 12-year-olds were taken to hospital as a precautionary measure on Sunday after swallowing water in the River Nene in Denford, Northamptonshire.
A police spokesperson said the youngsters were "shaken up" but fortunate it was not "more serious".
Daniel McCullagh, from Woodford, died last July after being swept away from Woodford Lock.
His father, Gabriel McCullagh, has since called for safety improvements around waterways in the county.
The Environment Agency said it had restricted access to the bridge over the lock since Mr McCullagh's death and added extra signs warning people not to swim in the river.