Northampton St Peter's Way gas tower set for demolition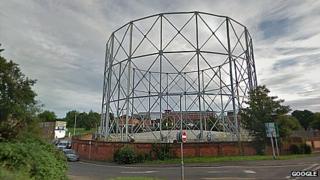 A gas tower that has been part of Northampton's skyline for more than 100 years is to be dismantled as part of a major redevelopment plan in the town.
The site on St Peter's Way, owned by National Grid, will become part of the town's waterside development.
Scott Lewis, from National Grid, said they wanted to ensure the site could be "provided with a brighter future".
Demolition of the tower could begin by the end of the year if the plans are approved.
Council leader David Mackintosh said: "The removal of this gasholder will be a powerful demonstration of our drive to ensure the regeneration of Northampton town centre continues."
The St Peter Waterside project is part of the multi-million pound Northampton Waterside Enterprise Zone.
'Strong interest'
The plan includes a series of six linked development projects along the River Nene, from Sixfields to Nunn Mills, by the borough council and West Northamptonshire Development Corporation (WNDC).
Peter Mawson, WNDC's chief executive, said: "St Peter's Waterside is primed for redevelopment and is attracting strong interest from a range of investors.
"With the inclusion of the Northern Gasholder site, we have the opportunity for a high quality office development, capitalising on its central location, riverside setting and Enterprise Zone benefits."
The gas tower is part of a larger site owned by National Grid, which includes a second tower in Towcester Road. Plans for this are not yet known.