Desborough skatepark demolished due to safety concerns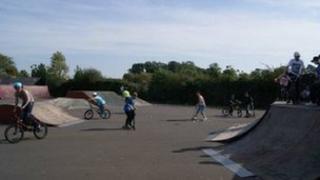 A skatepark in Desborough has been demolished despite a public campaign to save it.
The park was due to close in September because Kettering Borough Council wants to sell the land but safety inspectors advised the immediate closure.
Belinda Humfrey, one of the trustees of the community group which maintains the park, said "hundreds of boys" would now have nowhere to go.
The council said it was "disappointing" the site had to close early.
A spokesperson said: "We have tolerated the management of the site in the hope that matters would improve, but we do not want children to be at risk and we are sure that the trustees and their insurers don't want this either."
A report from the Royal Society for the Prevention of Accidents had said users of the skatepark, which was installed in 1999, were in "imminent and immediate danger" if they continued to use the equipment.