High fuel costs hitting steelworks minister told at Corby steelworks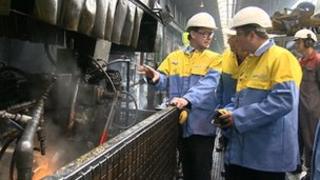 The cost of energy is too high, a major steel company has told a government minister visiting its Corby plant.
Energy Minister Greg Barker visited Tata Steel's works for a meeting organised by Corby MP Andrew Sawford.
The firm, which also has plants at Port Talbot and Llanwern in South Wales, said it paid almost double the cost of gas and electricity paid by its competitors in France and Germany.
Mr Barker said the government was working on cutting fuel costs.
He said the government's Energy Intensive Industries (EII) scheme, being brought in this year, aims to reduce the costs of electricity by mitigating the amount paid for carbon emissions - also known as green taxes - for the most electricity-intensive industries.
"We created a special exemption for energy intensive industries. We can't make a difference overnight, but we can make real progress," he said.
'High energy costs'
He met with managers at the steelworks and talked about the needs of the industry.
Tim Morris, head of public affairs at Tata Steel in Europe, said: "The UK's energy costs are already much higher than those of our competitors elsewhere in Europe and further afield.
"We therefore welcome the initial steps the government has announced, such as the EII package, to mitigate this major competitive disadvantage, but much more remains to be done.
"Steel is a foundation sector supporting much of UK manufacturing and construction. We look forward to maintaining a dialogue with our partners in government to ensure the British steel industry's contribution to UK competitiveness continues."
Labour MP Mr Sawford said: "In the UK the mitigation for green taxes is £250m. In Germany it's £5bn."