Battle of Northampton: Roses laid to commemorate fallen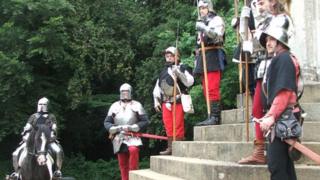 Red and white roses have been laid on the Northamptonshire site of a battle that decided in 1460 the House of York would rule England.
The Medieval Siege Society, mounted and on foot, led a guided walk on Wednesday across the Battle of Northampton site.
They were remembering those that fell from both sides.
In the battle Edward IV overcame Henry VI and seized the crown. Artillery was used for the first time in England during the fighting.
Walkers left Delapre Abbey and crossed the path of the doomed Lancastrian cavalry charge to the site of the Eleanor Cross where the roses were laid in a short ceremony.
It was from here, 553 years ago on 10 July, Papal Legate Coppini watched the events of the battle unfold.
Mike Ingram from the Battlefields Trust said: "We laid white and red roses to symbolise the fallen from the houses of York and Lancaster.
"We then took a path back through the east section of the battlefield, where I gave a short lecture on the events of the battle and the probable location of the Lancastrian defences, before returning to the Abbey."
The Lancastrian cavalry charge involved about 1,500, possibly Welsh, riders against Warwick and his men as they approached the defences, Mr Ingram said.
"It would be the last great cavalry charge until Richard III's 25 years later.
"A chronicle reports how the cavalry were forced back to the bridge and all killed, whilst their leader was taken prisoner and later executed."
About 25,000 people fought in the Battle of Northampton but the site had never been investigated.
Plans to put sports fields on the site triggered a campaign to discover more and to retrieve artefacts from the battle.
The borough council commissioned a study to help planners to protect the site in the grounds of Delapre Abbey.
Conservation specialists LUC are now working on the site with two local specialist archaeologists and a progress report is expected.
Battlefield expert Glenn Foard and landscape archaeologist Tracey Partida aim to discover the area where the battle was fought in 1460.
The Battlefields Trust said it was decisive in English history by changing the line of kings from Lancastrian to Yorkist.