Chester Farm site receives £4m from Heritage Lottery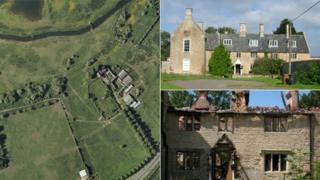 A fire-damaged Grade II listed farmhouse complex in Northamptonshire is to receive £4m from the Heritage Lottery Fund to open it to the public.
The site of the Northamptonshire County Council-owned Chester Farm, in Irchester, has evidence of human activity dating back 10,000 years.
The project will include an archaeological resource centre.
The house, which was built near the site of a walled Roman town, was severely damaged by a fire in 2010.
The council received a £1.9m insurance pay-out to repair the 17th Century building.
The lottery money will be used to build a classroom and conference space, as well as the archaeological resource centre.
County council leader Jim Harker said the property was a "site of national importance".
The 45-acre (18 hectare) property was bought by the council in 2004 after it became uneconomic as a farm unit.
The site includes an Iron Age settlement, a complete Roman town and the deserted medieval village Chester-by-the-Water.
Vanessa Harbar, head of the Heritage Lottery Fund East Midlands, said the site's "exceptional heritage significance" was "more than previously thought" and it would be "a great resource for scholars, historians and the wider public".
The council hopes the first phase of the development will be open to the public within two years.