Old Black Lion pub in Northampton wins renovation grant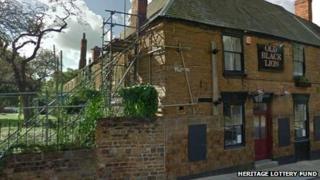 A project to restore one of the oldest pubs in Northampton has won a £156,000 grant from the Heritage Lottery Fund.
The money will go towards planning repairs and refurbishment at the Old Black Lion pub, and provide a heritage centre and meeting facilities for the nearby 12th Century St Peter's Church.
The Churches Conservation Trust (CCT) will be looking after both buildings.
The pub is a 17th Century inn first called the Plasters Arms. It burnt down in the great Northampton fire of 1675.
It was restored as the Old Black Lion in 1720 and now needs further repairs, although it remains open as a business.
Jobs created
The grant will allow a lottery bid to be prepared for a full £1.6m restoration, which aims to breathe new life into both buildings, enhancing the area's tourism potential.
The pub's outbuildings will become a visitor centre, creating new conference and meeting facilities, while the redeveloped pub building will become a pub-restaurant.
The lottery grant will also see 26 jobs created.
The project is a partnership between CCT, Northamptonshire County Council, Northampton Borough Council, the Friends of Northampton Castle and the Friends of St Peter's and All Saints Church.
A commercial partner will be sought to run the pub and restaurant operation.
Northamptonshire County Council leader Jim Harker said the project "will celebrate the town's rich history with a focus on the former Northampton Castle site and the surrounding area".