Anxiang Du murder trial: 'Shriek' heard at Ding house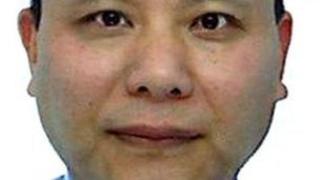 A girl playing near the house where a family of four were killed heard a "shriek", her father has told a jury.
Jifeng "Jeff" Ding, his wife, Ge "Helen" Chui, and daughters Xing, 18, and Alice, 12, were stabbed to death at their Northampton home in April 2011.
Anxiang Du, 54, of Witnell Road, Coventry, denies four counts of murder but admits killing the Dings.
Northamptonshire Crown Court heard the girl stopped to look through a peephole in the fence "but didn't see anything".
Her father told the jury that she was not able to say if it was a "scream of anguish".
Bus driver's directions
The Dings were "massacred" on the afternoon of 29 April 2011, the day of the wedding of the Duke and Duchess of Cambridge, the court has heard.
The prosecution alleges they were the victims of a carefully planned revenge attack by businessman Mr Du, who had lost a 10-year legal battle with his former partners Mr and Mrs Ding.
He faced costs of £88,000.
His defence will claim all four killings were manslaughter due to loss of control or diminished responsibility, the court has heard.
On the day of the killings, he travelled from his home in Coventry, to his Chinese herbal medicine shop in Birmingham, to Northampton, before getting a bus to Wootton.
Bus driver Roger Vines told the jury he recalled pointing Mr Du in the direction of the Wootton Fields estate, a 15-minute walk from where he got off the bus in the High Street at about 13:25 BST.
Asked by prosecutor William Harbage QC if Mr Du's behaviour was out of the ordinary, he said: "Not that I could see."
'Acting strangely'
At about 15:00 BST, Mr Du asked a woman for directions to what she believed was Campaign Way, the court heard.
She saw his rucksack and thought he could have been a photographer going to a royal wedding street party.
The jury has heard a 999 call made by Xing Ding at 15:32 BST, which the prosecution said accurately timed the killings.
A girl on the estate told her father a man was acting strangely outside the Ding house at about 16:00 BST, the court heard.
"An oriental gentleman was standing about 5m from the Dings' garage... under a tree," said Ishtaq Hussain.
"He had a rucksack on his back and it looked like he had something in it. He just walked off with his hands in his pockets and stood next to a car.
"I told my kids to come and play nearer the house so I could keep an eye on them."
The Dings bodies were discovered on 1 May and their Vauxhall Corsa, stolen by Mr Du as a getaway car, was found abandoned in London later that month.
Mr Du had by that time travelled by coach under his own name and passport to Paris, before travelling to Spain, where he took a boat to Morocco.
He was detained there in July last year and returned to the UK in February.
The trial continues.